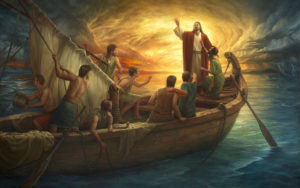 Let's begin with a simple, but powerful prayer. Pray: Heavenly Father free me from the power of sin, free me from the power of self, and free me from the power of satan; in the holy name of Jesus, amen.
The Bible tells us that no one comes to God unless that person is being drawn to Him by the Holy Spirit. It is no accident that you are reading this page of information. It is by way of divine appointment that you are on this website inquiring about Abundant Life. Trust me, there are no accidents or coincedences. God presents us with opportunities for meeting Him. You see, long before you even thought of God, He was thinking of you. And even while you are still sinning, in the very midst of sin and rebellion, He loves you and made it possible through Jesus for you to know Him and experience His immeasureable love.
John 20:31 says, "These things are written, thay you might believe that Jesus is the Christ, the Son of God; and that believing you might have life through his name." His life is eternal and it is transforming: for in 2 Corinthians 5:17-18, we read: "Therefore if any be in Christ they are new creatures (new creations): old things are passed away; behold, all things become new. And all things are of God, who has reconciled us to Himself by Jesus Christ." We were at war with God. We didn't even know it. But even in our ignorance, Jesus came to earth and made peace with the Father for us by taking all sin and nailing them with Him on the cross. So then, consider the wonderful Gift of Jesus. He is not about fixing broken lives. He doesn't fix us; He makes us brand new. He gives us new life! It's hard to see on the outside, but people notice the change. The important change is within. He gives you His Spirit, and it is as if He makes that which was dead alive. And that's what He does. He gives us His life and His ability to be brand new. Later in 2 Corinthinians 5:21, it says, "For He (the Father) has made Him (Jesus)to be sin for us, who knew no sin; that we might be made the righteousness of God in Him." Jesus did an incredible thing for us. He came to earth humbled as a man, so that He could live and die a sinless life, and become the author of eternal salvation. Think about it. Pray about it.
There is no other faith based on the founder's sacrifice to bring salvation. If you think that Jesus is a good man or a good moral teacher, remember He tells us plainly in the scriptures that He is the Son of God. He tells us that He is God. He is either a raving lunatic or what He has said of Himself is absolutely true. If you believe His life ended on the cross, then think about the 500 plus witnesses  that testified of His resurrection. Think about how willing His early followers were to defy every religious law and debate to continue to preach the name of Jesus. Why would anyone continue to preach one who promised to come back from the dead if He didn't? What would they gain? None of His disciples made a dime by following Jesus. Truth be told, they all suffered persecution for His sake, and all but John the fisherman, were brutally martyred for their faith. Following Jesus may not be the thing to do in the eyes of the world, but in the light of eternity there is no other course to go. Jesus said, "I am the Way, the Truth, and the Life; and no one comes to the Father except by me."
In the Book of Revelation it says, "Behold I stand at the door (your heart) and knock: if you open the door, I will come in." Pray: Come into my heart Lord Jesus. I acknowledge my need for you. I accept you as my Savior and proclaim you the Lord of my life, Amen.