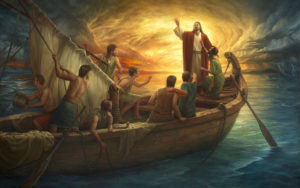 If you have opened this page, then you are seeking New Life. We have prayed for you and all heaven shares the joy we have at this very moment for you. Yes, it's true! Jesus said, "There is joy in heaven and joy in the presence of the angels of God because you have turned to Him," Luke 15:7,10. Oh, what a glorious day! Now for the really good news! God loves you! Yes, it's true.
He loves you so much that He gave His Son, Jesus to make it possible for you to know Him and be part of His forever family. Don't try to work it all out in your head. Believing is not a head thing, but a heart thing. As the Bible says, if you confess with your mouth that Jesus is Lord, and believe in your heart that He rose from the dead, then you will be saved. For with the heart we believe obtaining righteousness and by speaking out with our mouths this confession (Jesus is Lord) salvation is given, Romans 10:9-10.
What do I do? You accept. What? You say,"Yes!" to the Father, and that's all you have to do. You see, Jesus is God's wonderful, indescribable gift to us. The Bible tells us, "By grace we are saved through faith; and that not of ourselves; it is the gift of God: not of works, lest any man should boast," Ephesians 2:8-9.
For by grace (Which is the unmerited favor given to us by God. He loves us and is 100% on our side, and because of this great love, He gives us what we cannot obtain for ourselves; grace.); we are saved (restored to relationship with God), through faith (Which is the substance of belief given to all humanity that makes approaching the living God possible.); it is the gift of God (Grace is the free gift that keeps giving as we continually live this New Life.), it is not of works (anything that we can do or initiate) lest any of us boast (to seek the credit for what only God, through Christ, can accomplish. Ephesians 2:8-9.
You may ask, "Why do I need to be restored to relationship with God?" Good question. The answer is sin. Sin separates us from God, and unfortunately "we all have sinned and fall short of the glory of God," Romans 3:23. The good news is that Jesus, who knew no sin, was made sin for us; that we might be made the righteousness of God in Him," 2 Corinthians 5:21.
So, take the gift, open the gift, make Jesus your own by saying yes to God, and begin this New life in Christ. Thank Jesus for His wonderful sacrifice in dying on the cross. Thank the Father for His wonderful sacrfice in sending His Son. Thank the Holy Spirit for His indwelling presence, and His continual help and guidance from this point in time to eternity.